Vegan Gingerbread Banana Quinoa Breakfast Bake
Makes: 8 Servings
Prep time: 10 minutes
Cook time: 1 hour and 20 minutes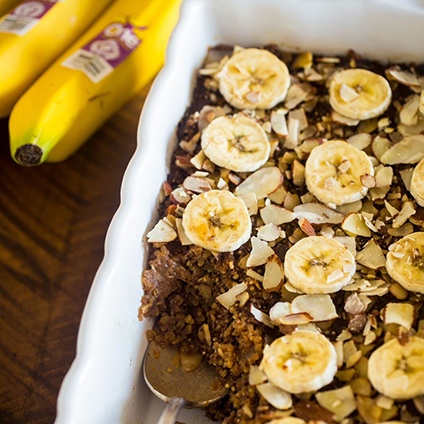 Ingredients
3 Medium over-ripe ONE Bananas, mashed (just under 1 1/2 cups or 370g)
1/4 Cup Molasses
1/4 Cup Pure maple syrup
1 Tbsp Cinnamon
2 tsps Raw vanilla extract
1 tsp Ground ginger
1 tsp Ground cloves
1/2 tsp Ground allspice
1/2 tsp Salt
1 Cup Quinoa, uncooked
2 1/2 Cups Unsweetened vanilla almond milk
1/4 Cup Slivered almonds (25g)
Instructions
In the bottom of a 2 1/2-3 quart casserole dish, stir together the mashed banana, molasses, maple syrup, cinnamon, vanilla extract, ginger, cloves, allspice and salt until well mixed. Add in the quinoa and stir until the quinoa is evenly distributed in the banana mixture.
Whisk in the almond milk until well combined. Cover and refrigerate overnight.*
In the morning, heat your oven to 350 degrees and whisk the quinoa mixture to make sure it hasn't settled to the bottom.
Cover the pan with tinfoil and bake until the liquid is absorbed, and the top of the quinoa is set, about 1 hour –to 1 hour and 15 mins.
Turn your oven to high broil, uncover the pan, sprinkle with sliced almonds, and lightly press them into the quinoa. Broil until the almonds just turn golden brown, about 2-4 minutes. Watch closely, as they burn quickly!
Let cool for 10 minutes (it's HOT!) and DEVOUR.
*You can also bake this right away! It works either way.
Recipe Credit
Many thanks to Taylor at Food Faith Fitness for this wonderful recipe!