OUR EVOLUTION
We are dedicated to the responsible production of the highest quality BANANAS and FOOD INGREDIENTS to be enjoyed all over the world.
The ONE Banana Story
2020
The One Banana brand evolves into ONE Banana Ingredients, expanding to transform out premium bananas into the highest quality food ingredients.
2014
ONE BANANA. The Better Banana Company was first introduced to the world in 2014 as a company dedicated to growing great tasting, high quality and delicious bananas in a socially and environmentally responsible manner, to be enjoyed all over the world.
2009
Agroamerica obtains the Rainforest Alliance, Global G.A.P. and BASC certifications. A Clean Development Mechanism (CDM) project is approved by the United Nations. The Corporate Social Responsibily program is consolidated and is focused on workers, families and communities.
2002
Agroamerica consolidates its position as one of he largest and most efficient banana and pineapple producers in the world.
2001
Agroamerica expands its growing and enters the pineapple business in Costa Rica.
1976
Agroamerica is exclusively dedicated to banana production, marketing and exporting.
1958
Agroamerica stars operations in Guatemala with a small plantation. For several years Agroamerica grew various different types of crops.
As the years go by and we pursue our purpose, we have expanded our product lines
and our ability to produce the highest quality bananas and banana ingredients in a
sustainable, responsible and efficient manner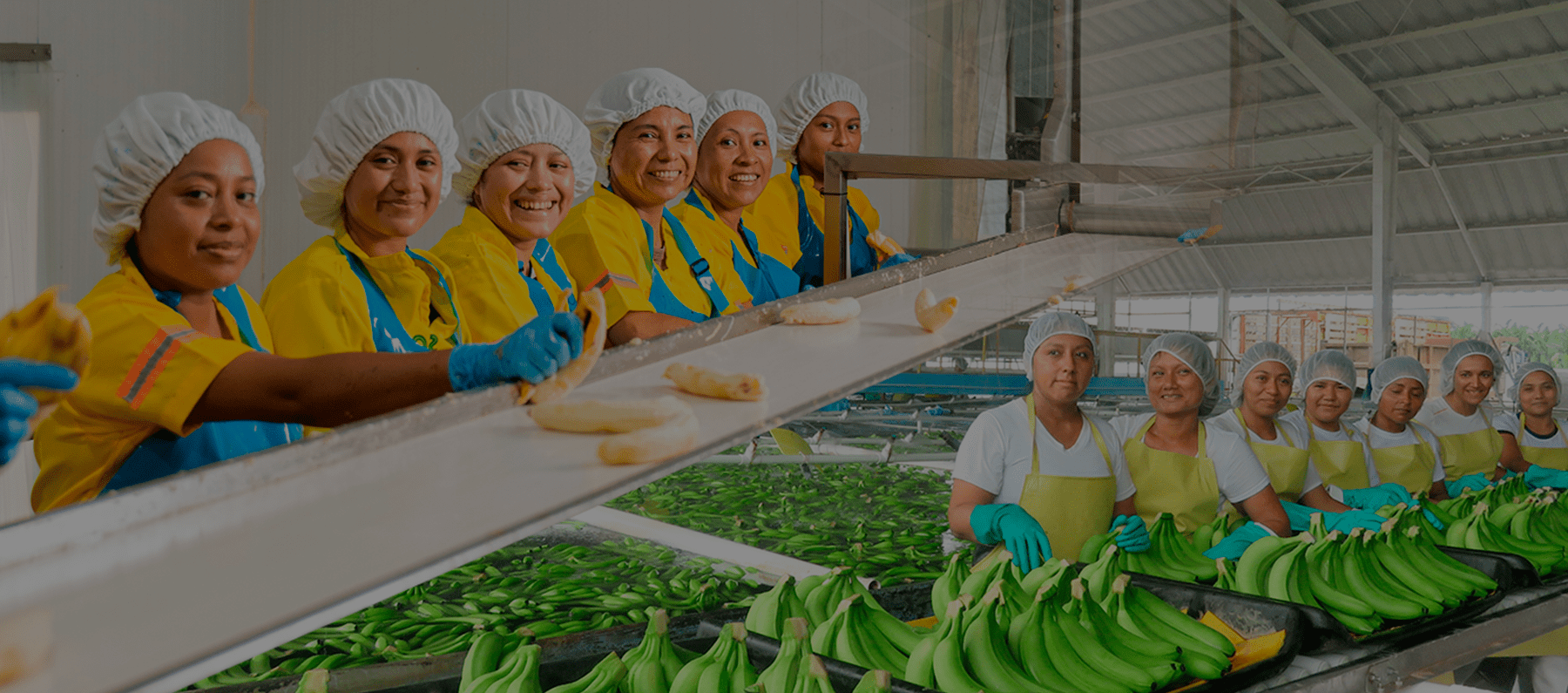 OUR PURPOSE
Feed the world in a sustainable responsible and efficient manner.
Our Vision & Mission
Our Founding Vision
We've made it our singular mission to define ourselves by our belief that no matter the business, it all comes down to people.
People are paramount to everything we do, say and believe.
Generation after generation, we can honestly say that we are different.
How we grow our bananas.
How we treat our team members.
How we maintain, cultivate and protect the lands we own and harvest.
It's about people first.
Now, that's different.
Our Mission
Be a better banana company.
Not because we have to, but because we want to.
ONE, small thing can make a difference.
Create change for the better, ONE banana, ONE person at a time.
Our Values
Perseverance
We are known for achieving what we set out to do. Our goals are high, as is our desire to achieve them through hard work and dedication.
Diligence
We show pride, enthusiasm and dedication in everything that we do. We are committed to producing and delivering high quality products and services.
Teamwork
Our organization is focused on commitment, leadership, responsibility, creativity, organization, harmony, friendship and cooperation among each and every one of our partners and collaborators.
Honesty
Authenticity, reliability and loyalty are all attributes found in our organization. We employ the highest ethical standards, demonstrating honesty and fairness in actions we take.
Responsibility
We are dedicated to satisfying our customers' needs and honoring the commitments we have made to them by going that extra mile.
Generosity
We strive to help and improve the communities where we work and live.