Vegan Banana Chocolate Chip Muffins
Makes: 18 muffins
Prep time: 10 minutes
Cook time: 10 minutes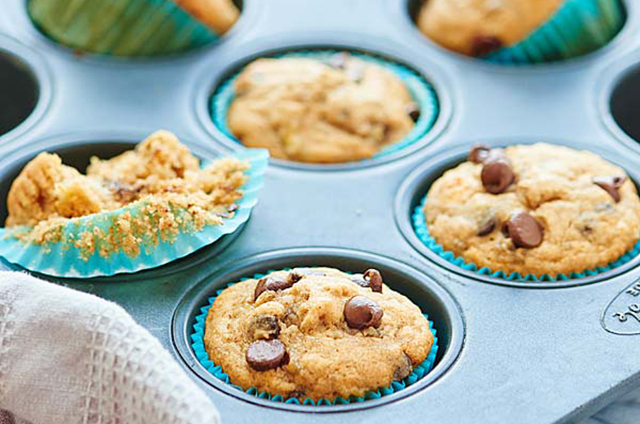 These Vegan Banana Chocolate Chip Muffins are healthy & use natural ingredients like agave, bananas, whole wheat pastry flour, coconut oil & almond milk!
Ingredients
½ cup almond milk, room temperature
2 tablespoons vinegar
2 and ½ cups whole wheat pastry flour
1 tablespoon baking powder
1 teaspoon baking soda
½ teaspoon salt
1 teaspoon cinnamon
⅔ cup agave
½ cup coconut oil, melted and cooled slightly
1 tablespoon vanilla
1 and ¼ cups mashed ripe bananas, about 3 bananas
1 cup vegan chocolate chips
Directions
Combine the milk and vinegar in a measuring cup and let sit for 5-10 minutes.
Preheat oven to 425ºF. Line a regular sized muffin tin with paper liners.
In a large bowl, mix together the dry ingredients: flour, baking powder, baking soda, salt, cinnamon.
Whisk together agave, oil,, vanilla, and the milk + vinegar mixture and stir. Then stir in bananas.
Stir together dry and wet ingredients – DO NOT OVER MIX!
Fold in chocolate chips.
Fill each cup in the muffin tin to be almost completely full, about ¼ cup. Sprinkle with sparkling sugar, if using.
Bake at 425ºF for 5 minutes. Then decrease the heat to 350ºF and bake for another 5-8 minutes.
Remove from oven and let cool for a few minutes before removing from the tin and serving.
Tip: These freeze great, too! Keep in an airtight container or freezer ziplock baggie. Warm in the microwave (about 15-30 seconds depending on your microwave) before serving!
Recipe Credit
Many thanks to Jennifer & Trevor at Show Me The Yummy for this wonderful recipe!