Spiced Banana Crumb Cake
Makes: 10 servings
Prep time: 25 minutes
Cook time: 50 minutes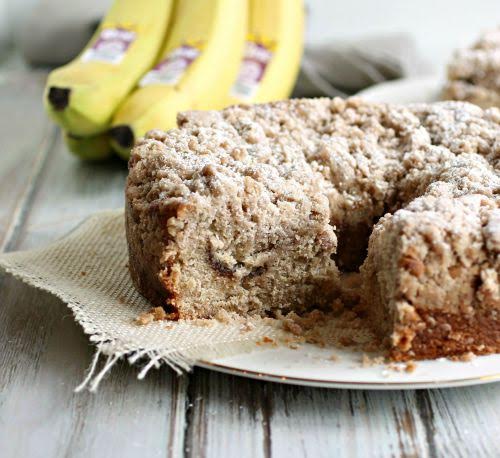 Ingredients
Crumb Topping
1 1/2 Cups all purpose flour
1/2 Cup sugar
1 Teaspoon cinnamon
1/2 Teaspoon salt
1 Stick unsalted butter, melted and slightly cooled
Cake
2 Eggs
1 1/2 Cups sugar
1 Stick unsalted butter, at room temperature
2 Large ripe or over-ripe bananas, mashed
1 Teaspoon vanilla
2 Cups all purpose flour
2 Teaspoons baking powder
Swirl
1 Teaspoon salt
1/4 Cup sugar
1 Tablespoon cinnamon
1 Teaspoon ground ginger
1/2 Teaspoon nutmeg
Directions
Preheat the oven to 350 degrees and butter and flour an 8″ tube style (angel food) pan.
Make the crumb topping by combining the flour, sugar, cinnamon and salt in a bowl. Pour in the melted butter, mix thoroughly and set aside while you make the cake.
Add the eggs and sugar to a large bowl and, using a stand or hand mixer, beat together until lightened in color. Beat in the butter followed by the vanilla and bananas.
In a separate bowl, sift together the flour, baking powder and salt. Add the dry ingredients into the wet and mix until combined.
In a small bowl, combine the sugar, cinnamon, ginger and nutmeg for the swirl.
Pour half the banana batter into the prepared tube pan, sprinkle the swirl mixture evenly over the layer and top with the remaining batter.
Using your fingers, crumble the topping mixture over the batter and bake for 45 – 50 minutes or until a cake tester comes out clean. Cool thoroughly before removing from the pan.
Recipe Credit
Many thanks to Hungry Couple for this wonderful recipe!