Santa Banana Kabobs
Makes: 6
Time: 10 minutes
Level: Easy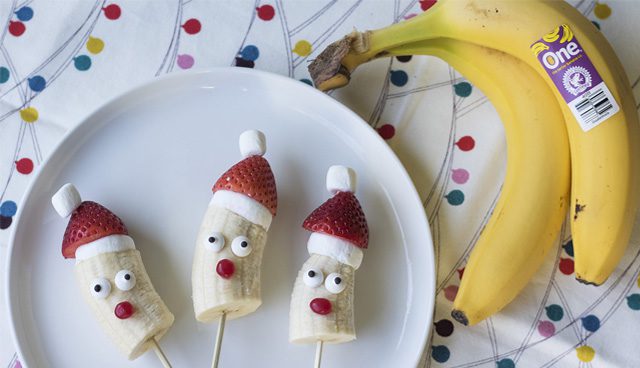 Ingredients
2 bananas
6 strawberries
2 marshmallows
6 mini marshmallows
6 red hot candies
12 candy eyes
6 skewers
Directions
Peel the bananas and slice them into three pieces. Each piece will be about 2 inches long, depending on the size of your banana. Cut the top off of each of the strawberries.
Cut the large marshmallows width-wise into 3, round pieces.
Place one piece of banana on a skewer then top with a slice of marshmallow. Place a strawberry, cut side down on the marshmallow, then top the strawberry with a mini-marshmallow.
Stick two eyes and a red hot candy on the banana to create a face before serving.