Peanut Butter Banana Ice Cream Sandwiches
Makes: 4 Ice Cream Sandwiches
Prep Time: 30 Minutes
Cook Time: 20 Minutes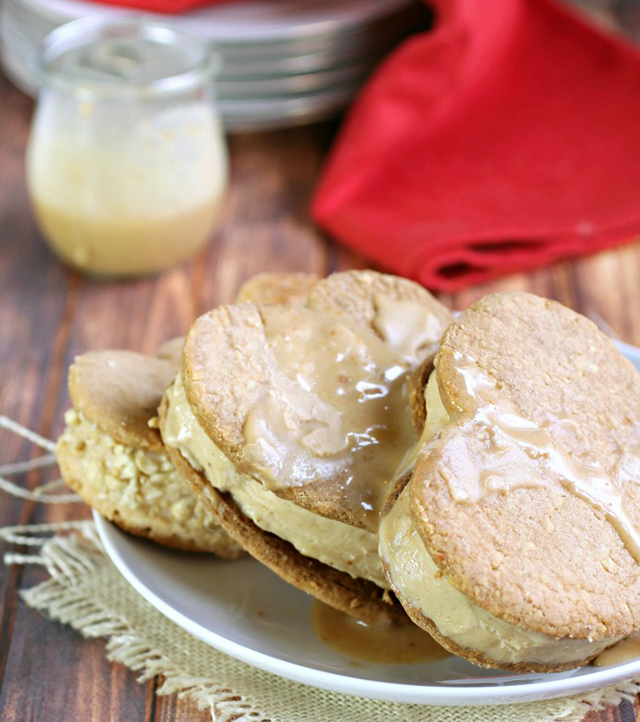 Ingredients 
Ice Cream:
1 Banana, frozen
1 Cup vanilla ice cream
2 Tablespoons peanut butter
Pinch of salt
Peanut Butter Shortbread Cookies:
2 Cups flour
1/4 Cup peanuts
2/3 Cup sugar
1 Stick unsalted butter, at room temperature
1/2 Teaspoon salt
1/4 Cup peanut butter
Peanut Butter Banana Caramel:
1/2 Cup sugar
1/2 Cup heavy cream
2 Tablespoons peanut butter
1/2 Banana, preferably over-ripe
Pinch of sea salt
Directions
To make the ice cream, combine the frozen banana, vanilla ice cream, peanut butter and salt in a food processor and pulse until combined. Spoon into a covered plastic container and freeze while you make the rest of the recipe. Note that if you want to cut out heat shapes in the ice cream, freeze it in a wide container in a layer about 1″ thick.
To make the cookies, pre-heat the oven to 350 degrees.
Add the flour, peanuts, sugar, butter, salt and peanut butter to a food processor and pulse until sticky and thoroughly combined.
Turn the dough out on a floured surface and roll to about 1/4 thick. Use a heart shaped cookie cutter (mine is 3″) to cut out the dough and place on a baking sheet lined with parchment paper.
Bake for approximately 20 minutes or until the cookies are a light golden brown. Allow the cookies to cool before carefully removing them from the pan or they may break.
To make the caramel, add the sugar to a pot and cook on low heat until the sugar dissolves. Be careful to watch it and not let the sugar burn.
When it's dissolved, remove from the heat and add the heavy cream. It will bubble up. Return to a low heat, add the banana and whisk any lumps.
Add the peanut butter and continue to stir until the mixture is smooth. Stir in the sea salt.
Assemble the ice cream sandwiches and serve with a drizzle of sauce. You can also roll the edges of the ice cream in chopped peanuts, if desired.
Recipe Credit
Many thanks to The Hungry Couple for this wonderful recipe!