Pan Fried Cinnamon Bananas
Makes: 2 Servings
Cook Time: 10 minutes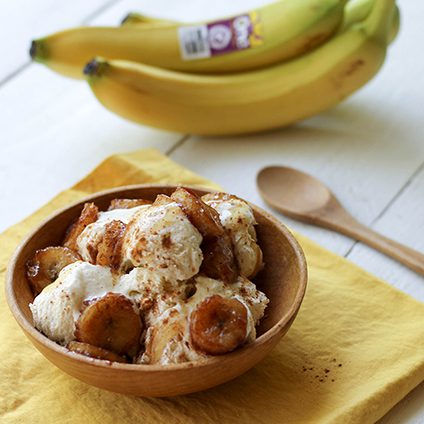 Ingredients
1 tbsp butter
2 tbsp honey
2 tsp ground cinnamon
1/4 tsp salt
1 banana, cut into 1/2 inch slices
1 1/2 cups vanilla ice cream
Instructions
Melt the butter in a sauce pan over medium heat. When the butter starts to bubble, add the honey, cinnamon and salt.
Allow the honey to melt, then add the banana slices to the pan. Cook for 2 minutes, then flip.
Cook the bananas for another minute, then remove the pan from the heat.
Divide the ice cream between two bowls, and top with the bananas. Pour any extra honey from the pan on top of the ice cream.