Paleo Banana Upside Down Cake
Makes: One 9-inch Cake
Prep time: 15 minutes
Bake time: 40 minutes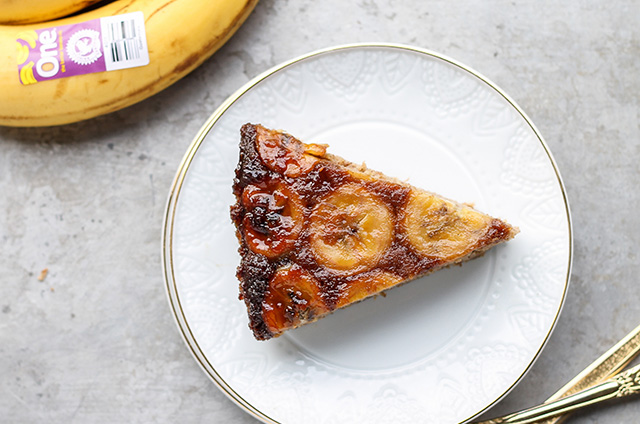 Ingredients
2 bananas, sliced
4 tablespoons coconut oil, melted
1/2 cup coconut sugar
Ingredients for the Batter
1 1/2 cups mashed banana (3-4 bananas)
3 eggs
1/3 cup almond butter (or nut butter of choice)
3 tablespoons coconut oil, melted
1/3 cup coconut flour
½ teaspoon cinnamon
3/4 teaspoon baking soda
3/4 teaspoon baking powder
1 teaspoon vanilla extract
1/4 teaspoon sea salt
Directions
Preheat the oven to 350ºF. Grease a 9" spring-form pan and place on a rimmed baking sheet lined with parchment or foil.
Combine the melted coconut oil and coconut sugar. Spread in the bottom of the prepared pan. Arrange the banana slices over the coconut sugar. Set aside while you prepare the batter.
In a large bowl or mixer, combine the mashed bananas, eggs, coconut oil, vanilla extract and nut butter until fully combined.
Add the coconut flour, cinnamon, baking soda, baking powder, and sea salt to the wet ingredients and mix well.
Pour the batter into the prepared pan and spread it evenly.
Bake in the preheated oven for about 40 minutes or until the cake is lightly golden brown. A toothpick inserted into the center should come out clean.
Remove from oven and allow to cool on a wire rack for about 20 minutes, and then carefully flip out onto a cooling rack to finish cooling.
Recipe Credit
Many thanks to Rachel at Bakerita for this wonderful recipe!