No Bake Banana Cream Pie
Time: 2 hours
Yield 8 servings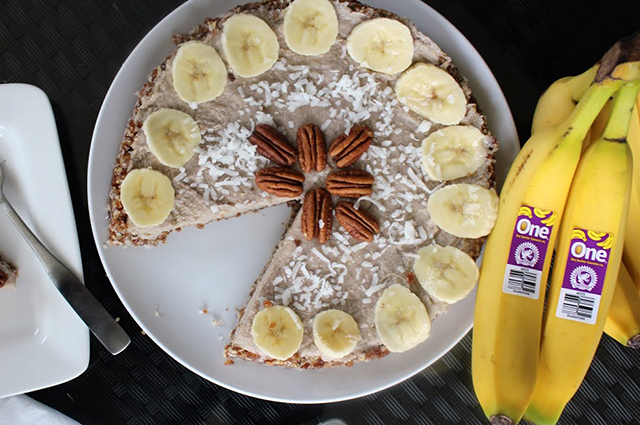 Ingredients
Crust:
1 cup pecans, extra for topping
1 cup shredded coconut, extra for topping
1 cup dates
¼ tsp salt
Filling:
3 bananas, plus one for topping
1 cup cashews
¼ cup agave
¼ cup lemon juice
3 Tbsp coconut oil
1 tsp vanilla extract
Pinch sea salt
Directions
In a food processor, blend the crust ingredients until mixture resembles coarse sand and is able to stick together when pressed between fingers.
Transfer to a springform pan and press firmly with the heel of your hand to evenly coat the bottom. Place in the freezer and allow to set.
In the meantime blend all of the filling ingredients in the food processor, except the extra banana used for topping. Process until smooth and pour over the crust. Smooth the top with the back of a spoon. Cover and freeze 2 hours or overnight.
Store covered in the freezer until ready to serve. Top with banana slices, pecans, and shredded coconut.
Recipe Credit
Many thanks to Tara at The Whole Tara for this wonderful recipe!