Mini Banana Split Cheesecakes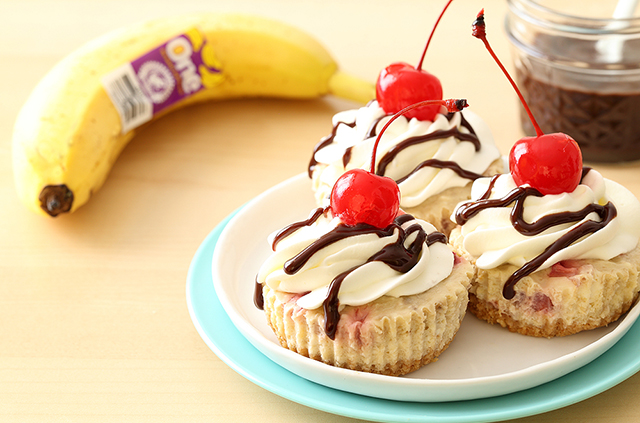 Ingredients
1/2 cup graham cracker crumbs
1 tablespoon butter, melted
8 ounces cream cheese, softened
1/4 cup granulated sugar
1 egg
1/2 teaspoon vanilla extract
1 cup mashed banana (roughly 2 medium bananas)
1/4 cup crushed pineapple, drained
1/4 cup chopped strawberries
Hot fudge sauce and whipped cream, for garnish
12 maraschino cherries with stems
 Directions
Preheat oven to 325F. Line a muffin pan with 12 cupcake liners.
Mix together the graham cracker crumbs and butter. Press about 1 tablespoon of crumbs into the bottom of each cupcake liner.
In a large bowl, beat together the cream cheese and sugar until smooth and creamy, about 2-3 minutes. Beat in the egg and vanilla then beat in the banana, pineapple, and strawberries.
Fill each liner with the batter and bake 23-25 minutes or until the tops are firm when touched and a toothpick inserted in the center comes out clean. Cool completely to room temperature then refrigerate for at least 4 hours or overnight. Right before serving, top with whipped cream, hot fudge sauce, and cherries. Store leftovers in an airtight container in the refrigerator.
Makes 12
Recipe Credit
Many thanks to Carla at Chocolate Moosey for this wonderful recipe!