Frozen Chocolate Banana Bites
Time: 1 hour 30 minutes
Makes: 4 Servings
Level: Easy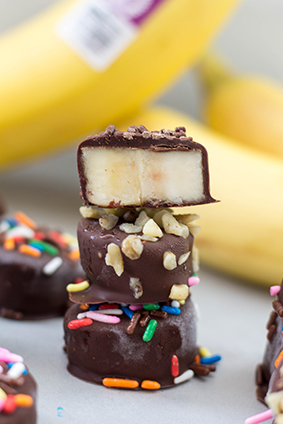 Ingredients 
2 bananas, peeled
1 cup dark chocolate
Sprinkles or chopped nuts, optional
Instructions 
Slice bananas into 1-inch pieces. Place banana slices on a parchment lined sheet pan and freeze for at least 1 hour.
Melt the chocolate over a double broiler (a metal boil placed on top of a pot of boiling water) and allow it to cool slightly.
Using a fork, dip the bananas in the chocolate, coating completely, then place back on the parchment paper. Top with sprinkles or chopped nuts if desired.
Place the sheet pan back in the freezer for 20 minutes before serving.