Cuban Chicken & Fried Banana Burrito Bowls
Makes: 2 burrito bowls
Prep time: 12 hours
Cook time: 15 minutes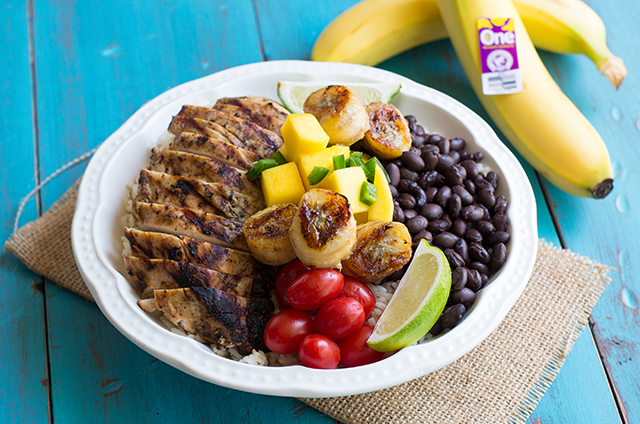 These Cuban-inspired burrito bowls are loaded with chicken that has been marinated in a bold mixture of Cuban spices and fresh citrus juice overnight. Each bowl is topped with sweet fried ONE Bananas, ripe tomatoes, creamy black beans, and a fresh mango salsa. This healthy dish is perfect for summer grilling.
Ingredients
Chicken
¼ cup orange juice
¼ cup lime juice
¼ cup chopped onion
4 cloves garlic, chopped
½ teaspoon dried oregano
1 teaspoon ground cumin
1 teaspoon red pepper flakes
3 tablespoons extra-virgin olive oil
1 teaspoon kosher salt
½ teaspoon black pepper
2 chicken breasts
Mango Salsa
1 large mango
1 small jalapeño pepper, seeded and minced
1 teaspoon lime juice
¼ teaspoon honey
Fried Bananas
2 slightly under-ripe ONE Bananas, cut into 1-inch slices
1 tablespoon canola oil
Burrito Bowls
2 cups cooked rice
1 (15.5-ounce) can black beans, drained and rinsed
½ cup grape tomatoes
Lime wedges for garnish
Directions
Chicken
In a large bowl, whisk together orange juice, lime juice, chopped onion, garlic, oregano, cumin, red pepper flakes, olive oil, salt and pepper. Add the chicken to the bowl and give it a flip to coat. Cover the bowl and place it in the refrigerator to marinate overnight.
Preheat the grill to high heat. Place the chicken on the grill and for 5 minutes on each side, or until the chicken reaches an internal temperature of 160 degrees F. Allow the chicken to rest for 5 minutes before slicing.
Mango Salsa
Remove the seed and peel from the mango. Cut into ½-inch cubes. Add the chopped mango, jalapeño, lime juice, and honey to a small bowl. Stir to combine. Set aside.
Fried Bananas
Heat canola oil in a sauté pan over medium heat. Place the bananas in the pan and cook on each side for 30 seconds to 1 minute, or until golden brown. Remove from the pan and allow the bananas to cool slightly.
Burrito Bowls
Divide the cooked rice between two bowls. Top each bowl with sliced chicken breast, ¼ cup grape tomatoes, half of the black beans, half of the mango salsa, and fried banana slices. Garnish each bowl with a wedge of lime. Serve immediately.
Recipe Credit
Many thanks to Jennie at One Sweet Mess for this wonderful recipe!