Cream Cheese Filled Banana Bread with Caramel Sauce
Makes: 12 servings
Prep time: 15 minutes
Bake time: 60 minutes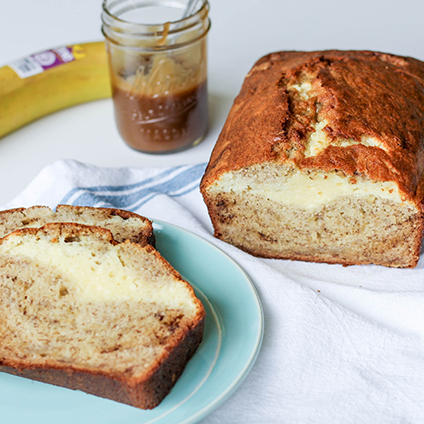 Ingredients
Banana Bread:
3 ripe bananas
1¼ cup sugar
½ cup (1 stick) unsalted butter at room temperature
2 eggs
½ cup milk
1 tsp vanilla extract
2½ cup all-purpose flour
1 tsp baking soda
1 tsp salt
Cream Cheese Filling:
4 oz cream cheese, soften
1tbsp butter, room temperature
¼ cup sugar
3 tbsp flour
¼ tsp salt
Caramel Sauce:
½ cup brown sugar
2 tbsp unsalted butter
½ cup heavy cream
½ tsp salt
1 tsp vanilla extract
Directions:
Preheat the oven to 350o F. Grease a 9" x 5" loaf pan.
In the bowl of an electric mixer, mix the sugar and butter until fluffy. Add the eggs and mix until combined. Mash the bananas with a fork, and then add to the mixing bowl. Pour in the milk and vanilla, and then mix until combined.
In a small bowl, combine the flour, baking soda and salt. Pour into the wet mixture slowly with the mixer on low speed.
Pour 2/3 of the batter into the prepared pan.
Make the cream cheese mixture by whisking together the cream cheese, sugar, butter, flour and salt.
Pour all of the cream cheese mixture into the pan then top with the remaining batter.
Bake for 1 hour. Then invert onto a wire rack to cool.
While the cake bakes, make the caramel sauce. Combine the brown sugar, cream, butter and salt in a sauce pan over high heat.
Bring the mixture to a boil, then turn off the heat and stir in the vanilla.
Allow the caramel sauce to cool before pouring it over the banana bread.