Classic Banana Split
Makes: 2 servings
Time: 5 minutes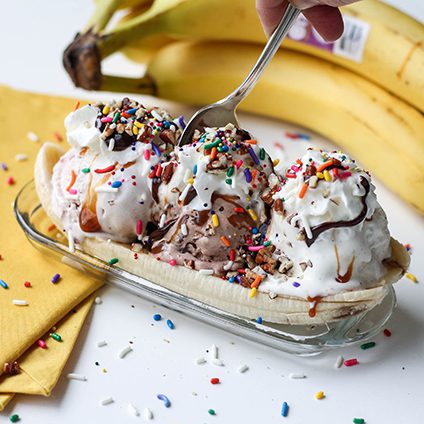 Ingredients
2 bananas
2 scoops vanilla ice cream
2 scoops chocolate ice cream
2 scoops strawberry ice cream
Chocolate sauce
Caramel sauce
Whipped cream
Sprinkles
Chopped nuts
Directions
Split the bananas in half length-wise and lay them flat-side up in two long, shallow dishes.
Place one scoop of each flavor of ice cream in a row on top of the banana halves. Repeat with the other banana and the remaining ice cream.
Drizzle chocolate and caramel sauce over the ice cream.
Top with whipped cream.
Sprinkle with sprinkles and chopped nuts to finish.