Chocolate Chip Banana Cake
Makes: 8 – 10 servings
Prep time: 30 minutes
Bake time: 45 minutes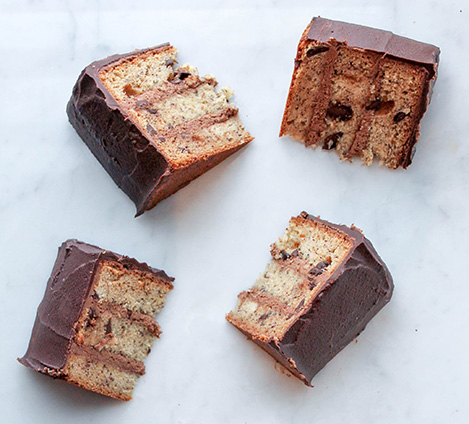 Ingredients 
3 ripe bananas
1¼ cup sugar
1 cup (2 sticks) unsalted butter at room temperature, divided
2 eggs
½ cup milk
1 tsp vanilla extract
2½ cup all purpose flour
1 tsp baking soda
1 tsp salt
2 cups chocolate chips, divided
1 1/2 cups powdered sugar
1/2 cup butter
1/4 cup cocoa powder
1/2 tsp vanilla extract
1/2 cup, plus 2 tbsp heavy cream
Directions
Preheat the oven to 350oF. Grease two 6-inch round cake pans.
In the bowl of an electric mixer, mix the sugar and 1 stick of butter until fluffy. Add the eggs and mix until combined. Mash the bananas with a fork, and then add to the mixing bowl. Pour in the milk and vanilla, and then mix until combined.
In a small bowl, combine the flour, baking soda and salt. Pour into the mixing bowl slowly with the mixer on low speed. Add 1 cup of chocolate chips and mix until just combined.
Pour the batter into the prepared pans.
Bake for 45 minutes, then invert onto a wire rack to cool.
Meanwhile, prepare the frosting. In a mixing bowl, whisk together the remaining butter, powdered sugar and cocoa powder until combined. Add vanilla extract and 1 tablespoon of heavy cream, whisk to combine. If the frosting is too thick, add one more tablespoon of heavy cream.
When the cake is completely cool, slice the domed top off of each to even them out. Place one cake on a cake stand and spread a thick layer of frosting on top. Layer on the second cake and cover the top and sides with a thin layer of frosting, then freeze for 5 minutes.
While the cake is in the freezer, Put the remaining chocolate chips in a heat-proof bowl. Bring the remaining heavy cream to a gentle boil in a sauce pot over medium heat, then pour the cream over the chocolate. Let it sit for 2 minutes before whisking into a smooth ganache.
Remove the cake from the freezer and pour the ganache over the cake in an even layer, using a spatula to cover the sides if necessary.
Refrigerate until ganache is set before slicing and serving.