Caramelized Banana Fruitcake
Makes: One 8-inch Cake
Prep time: 15 minutes
Cook time: 40 minutes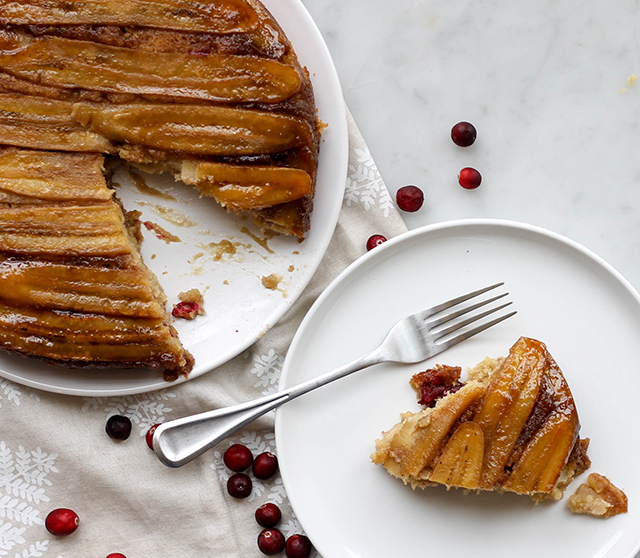 Ingredients
3 ONE Bananas
1 cup brown sugar, divided
4 tbsp. melted unsalted butter
1 Pear
½ cup fresh cranberries
1 ½ cups all-purpose flour
½ tsp baking powder
½ tsp baking soda
½ tsp salt
½ cup sugar
2 eggs
1 tsp vanilla extract
¼ cup milk
Instructions
Pre-heat the oven to 350 and butter a 8-inch round cake pan.
Stir together the melted butter and ½ cup of the brown sugar in a bowl and pour into the cake pan.
Slice 2 bananas length-wise and layer the pieces over the sugar mixture.
Combine the flour, baking powder, baking soda and salt, set aside.
Using an electric mixer, cream together the butter, sugar and brown sugar until light and fluffy, about 3 minutes. Add the eggs and vanilla extract, mix to combine.
Pour the dry ingredients into the bowl, mix to combine. Slowly pour in the milk with the mixer running.
Peel the pear and chop it into ½ inch pieces. Roughly chop the cranberries and slice the remaining banana into ½ inch pieces. Gently fold the fruit into the cake batter.
Pour the batter into the cake pan and bake for 40 minutes until edges are golden brown and a toothpick inserted in the center comes out clean.
Allow the cake to cool for 3 minutes in the pan then run a knife along the edges to loosen it and invert onto a wire rack to cool completely before serving.