Caramelized Banana Crostinis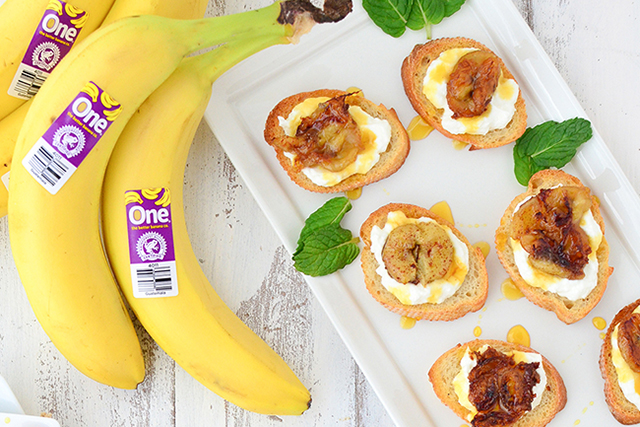 These crostini are the perfect appetizer for any occasion. Ready in less than 10 minutes, these sweet and savory bites will become your go-to recipe for entertaining.
Ingredients
2 ONE Bananas, sliced ½" thick
½ sourdough baguette
1½ cups ricotta cheese (whole milk preferred)
2 tbsp. butter
2 tbsp. brown sugar
½ tsp. ground cinnamon
honey, for drizzling
Directions
Preheat oven to 400 degrees Fahrenheit. Slice baguette and place slices on a baking sheet and toast until golden brown, 2-3 minutes per side. Remove from oven and set aside. Meanwhile, place the ricotta into a bowl or stand mixer. Using a hand mixer, stand mixer, or whisk, beat the ricotta until smooth and creamy about 2 minutes.
Add the butter to a large non-stick skillet over medium heat and cook until frothy and slightly browned. Add the brown sugar and bananas. Let cook until soft and caramelized, about 5 minutes. Sprinkle on the cinnamon.
To assemble, spoon a dollop of the whipped ricotta onto each crostini. Top with a slice of banana and a drizzle of honey.
Makes 16-20 crostinis.
Recipe Credit
Many thanks to Alex at Delish Knowledge for this wonderful recipe!