Blueberry Banana Pancakes
Makes: 8 pancakes
Cook Time: 10 minutes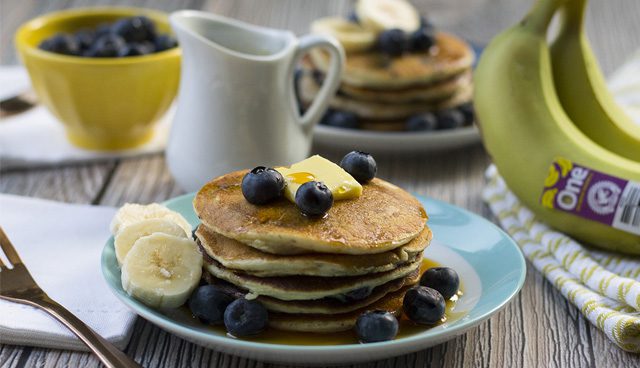 Ingredients 
1 cup pancake mix
2 eggs
1 cup water or milk
2 tbsp. oil
1 very ripe banana, smashed
1/4 cup frozen or fresh blueberries
1 tbsp. butter
Maple syrup, for serving
Instructions 
Combine pancake mix, eggs, water or milk and oil in a large bowl, whisk to combine. Whisk in the smashed banana then fold in the blueberries.
Heat the butter in a large non-stick skillet over medium heat.
Pour 1/4 cup batter into the pan and cook until bubbles appear and burst. Flip and cook for an additional minute.
Transfer cooked pancakes to a plate and serve with sliced bananas, fresh blueberries and syrup.