Banana Layer Cake with Peanut Butter Cream Cheese Frosting
Makes: 8 – 10 servings
Prep time: 60 minutes
Cook time: 30 minutes
Total time: 1 hour 30 minutes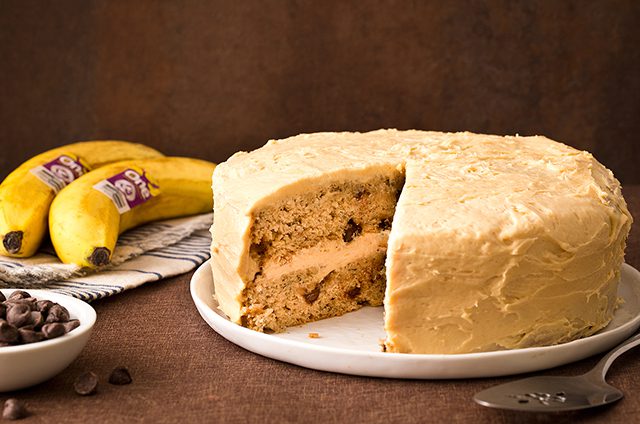 Ingredients for Banana Cake
2 1/2 cups all-purpose flour
1 1/2 teaspoons baking powder
1 teaspoon baking soda
1 teaspoon ground cinnamon
1/2 teaspoon ground nutmeg
1/2 teaspoon salt
1/2 cup (4 ounces or 8 tablespoons) unsalted butter, softened
1 cup granulated sugar
1/2 cup brown sugar
2 eggs, room temperature
1 1/2 cups mashed banana (roughly 3-4 medium bananas)
1 teaspoon vanilla extract
1/2 cup whole milk, room temperature
1 cup semisweet chocolate chips
Ingredients for Peanut Butter Cream Cheese Frosting
8 ounces full-fat cream cheese, softened
1/2 cup smooth peanut butter
1/4 cup (2 ounces or 4 tablespoons) unsalted butter, softened
2 cups powdered sugar, sifted
Pinch of salt
1 teaspoon vanilla extract
Instructions
Preheat oven to 350F. Line the bottom of two 8-inch round cake pans (1 1/2 inches deep) with parchment paper then lightly grease with cooking spray.
In a large bowl, sift together the flour, baking powder and baking soda (do not skip this step). Stir in the cinnamon, nutmeg, and salt.
In a large mixing bowl, beat together on medium speed the butter, sugar, and brown sugar until combined. Beat in the eggs, one at a time, until smooth. Beat in the banana and vanilla. Add the flour mixture alternately with the milk, adding the flour in 3 additions and the milk in 2 additions (begin and end with dry ingredients). Stir in the chocolate chips.
Divide the batter between the two cake pans and bake 30-35 minutes or until a toothpick inserted in the center comes out clean. Cool for 15 minutes then invert the cake pans. Cool completely on a wire rack.
For the frosting: In a large mixing bowl, beat together the cream cheese, peanut butter, butter, sugar, and salt until creamy and smooth, about 2-3 minutes. Add the vanilla then beat another 2-3 minutes until light and fluffy.
To Assemble the Cake:
If the cake layers are not flat, trim some of the cake off of the top until flat. Place one cake layer on a cake stand or plate. Slide pieces of parchment or wax paper underneath the cake for easy clean up later. Spread some of the frosting on top of the cake for the filling. Top with the remaining cake layer. Spread a thin layer of frosting all over the cake, sealing in the crumbs (don't use more than half of the frosting). Refrigerate 15 minutes.
Finish covering the cake with the remaining frosting. Carefully remove the paper pieces. Refrigerate until the frosting is firm. Store the cake covered in the refrigerator. For best results, let the cake sit at room temperature 15-30 minutes before serving.
Recipe Credit
Many thanks to Carla at Chocolate Moosey for this wonderful recipe!