Banana Granola Bars
Makes: Eight 4-inch Bars
Prep time: 10 minutes
Bake time: 30 minutes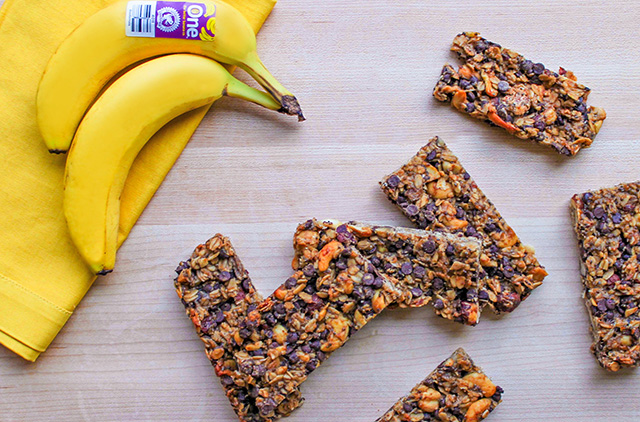 Ingredients
2 bananas, mashed
¼ cup creamy peanut butter
1 cup rolled oats
2 tbsp chia seeds
2 tbsp honey
¼ cup mini chocolate chips
¼ cup chopped hazelnuts
¼ cup chopping cashews
1 tsp salt
Directions
Pre-heat the oven to 375oF and line an 8" x 8" square baking dish with parchment or wax paper.
In a large bowl, combine all ingredients, mixing thoroughly with a wooden spoon or fork.
Spoon the mixture into the prepared baking dish, spreading it out evenly.
Baked for 30 minutes or until edges and top are brown.
Transfer from the pan to a cutting board and allow to cool for 5 minutes before slicing into eight 1-inch wide, 4 inch long pieces.