Banana French Toast
Makes: 4 Servings
Cook time: 15 minutes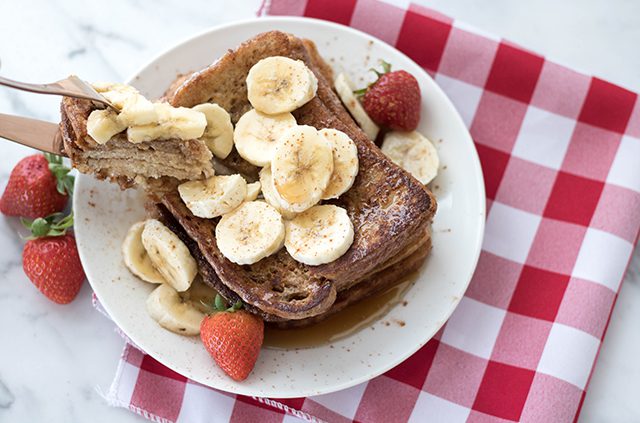 Ingredients 
3 tbsp butter
4 eggs
1/4 cup milk
1 tsp vanilla extract
1 tsp ground cinnamon
8 slices white bread
1/2 cup maple syrup
2 bananas, cut into 1/2 inch slices
8 strawberries, sliced
Instructions 
Melt the butter in a large skillet over medium heat.
While the butter melts, whisk together the eggs, milk, vanilla extract and cinnamon in a shallow bowl.
Dip one slice of bread in the egg mixture, coating completely on each side. Transfer the bread to the pan and cook for 2 minutes, then flip and cook for an additional minute.
Transfer cooked bread to a place and repeat with remaining slices.
Divide french toast between 4 places and top each with one half of a banana and two strawberries, sliced. Drizzle with 2 tbsp maple syrup.