Banana Crème Pie Cupcakes
Makes: 12 Cupcakes
Level: Easy
Time: 40 minutes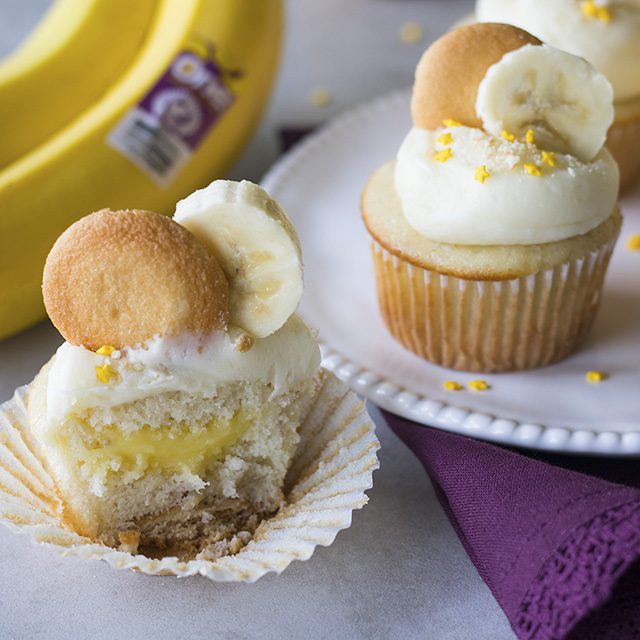 Ingredients
1 box white cake mix
2 whole bananas
1/3 butter, melted
1 ¼ cups water
3 eggs
24 Nilla Wafers
1 package banana instant pudding
4 cups milk
4 oz cream cheese, soften
2 tbsp unsalted butter, room temperature
2 cups powdered sugar
1 tsp vanilla extract
1 banana sliced into 12, thin pieces
Instructions
Pre-heat the oven to 350 degrees and line a 12 cup muffin pan with cupcake liners.
Combine the cake mix, two bananas, melted butter, water and eggs in a large bowl. Mix until smooth.
Take half of the Nilla Wafers and place one into the bottom of each cupcake liners. Scoop batter on top of the wafers, filling the liners ¾ of the way.
Bake for 18-20 minutes, then transfer cupcakes on a wire rack to cool completely.
While the cupcakes cool, combine the instant pudding and the milk in a large bowl. Whisk until smooth then allow the pudding to set for 5 minutes.
Use a sharp knife to cut the center out of each cupcake. Spoon the pudding into the cupcakes, then top with a piece of the cut out cupcake to cover.
Make the frosting by combining the cream cheese, butter, powdered sugar and vanilla. Mix until smooth.
Pipe the frosting onto each cupcake. Top with remaining Nilla wafers and banana slices.