Banana Corn Fritters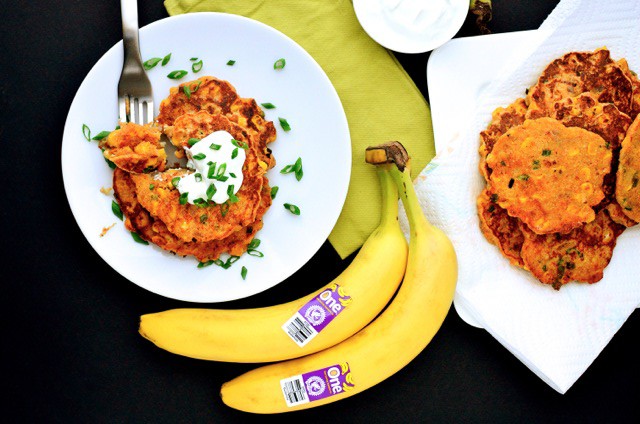 These savory and slightly sweet corn cakes are the perfect first course or side dish.
Ingredients
1/3 cup fine ground cornmeal

1/3 cup flour (either all-purpose or whole-wheat)

½ tsp. ground cumin

1 tsp. smoked paprika

¼ cup milk

1 tbsp. lime juice

2 ripe ONE Bananas

1 large egg

3 tbsp. butter, divided

2 shallots, finely chopped

3 scallions, finely chopped

1 1/3 cups corn kernels (thawed from frozen)
Directions
In a large bowl, whisk together the cornmeal, flour, cumin, paprika, and a pinch of salt and pepper. In a separate bowl, combine the milk and lime juice and let stand for 2-3 minutes until curdled. Add the bananas and mash very well using a potato masher or a fork. Whisk in the egg and add the wet mixture to the dry.  Heat 1 tbsp. butter over medium heat in a large non-stick skillet. Add the shallots, scallions and corn kernel and cook until tender and golden brown, about 4-5 minutes. Ford the cooked corn mixture to the batter and combine.
Heat the remaining two tablespoons butter in the skillet. Spoon out batter in ¼-cup scoops. Cook on each side until golden and crisp, about 1½ minutes. Enjoy as is or top with sour cream and chopped scallions.
Recipe Credit
Many thanks to Alex at Delish Knowledge for this wonderful recipe!