Banana Churros with Salted Caramel Sauce
Makes: 8
Time: 1 hour
Level: Medium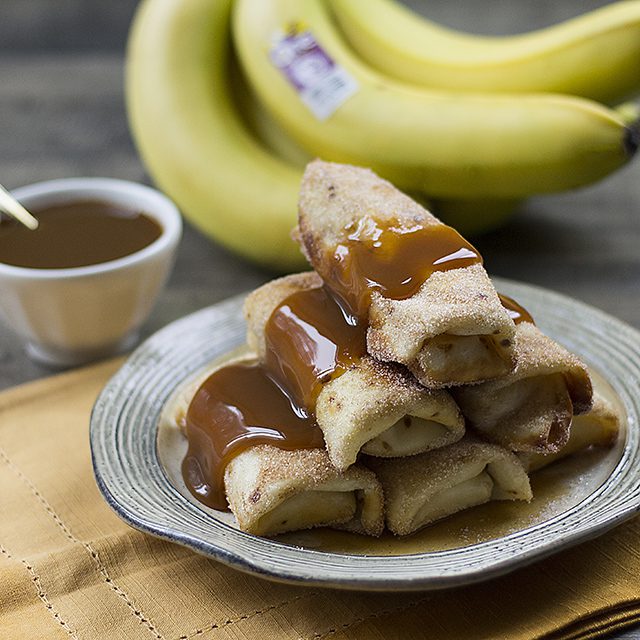 Ingredients 
Caramel Sauce
1/2 cup sugar
2 tbsp water
1/4 cup heavy cream
1 tbsp butter
1/4 tsp salt
Churros
2 bananas
8 small flour tortillas
1/2 cup sugar
1 tbsp ground cinnamon
1 1/2 cups canola oil
Instructions:
To make the caramel sauce, combine the sugar and water in a medium saucepan over high heat. Stir until the sugar melts then continue cooking without stirring.
While the sugar cooks, place the cream and butter in a small saucepan over medium heat. Cook until butter melts and cream starts to simmer then remove from heat.
When sugar turns a dark amber color, remove from heat. Use a wooden spoon to stir the cream mixture into the sugar mixture then stir in the salt. Pour into a bowl to cool.
Slice bananas in half lengthwise, then cut each half in half to create 8 pieces.
Place one banana slice in the middle of a tortilla, then wrap the tortilla around the banana to cover completely. Repeat with the remaining bananas and tortillas.
Combine the sugar and cinnamon on a plate, set aside.
Pour oil into a cast iron pan on high heat. To test if the oil is hot enough, sprinkle a little water on to the surface. If the water pops and fizzles, then it's ready to fry.
Working in batches, fry the tortillas for 1 minute, flip and fry for an additional 30 seconds.
Allow fried tortillas to rest for 30 seconds on a paper towel-lined plate, and then roll in the cinnamon sugar mixture. Serve with a drizzle of salted caramel sauce.