Banana Chip Muddy Buddies
Time: 2 hours and 30 minutes
Makes: 8 Servings
Level: Easy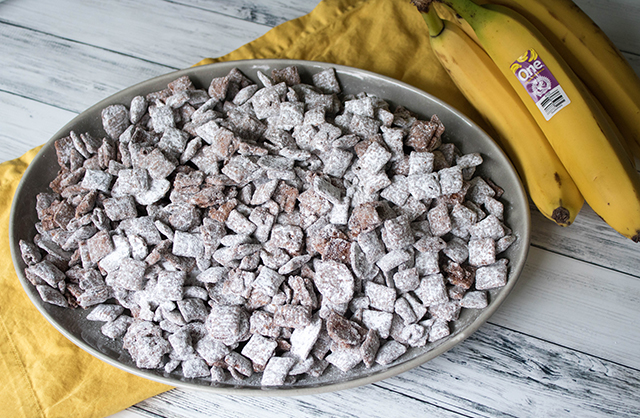 Ingredients 
2 bananas, peeled and sliced into 1/8 inch pieces
1 tsp. lemon juice
1 tsp. salt
8 cups Chex cereal
1 cup chocolate chips
3/4 cup peanut butter
1/4 cup unsalted butter
2 cups powdered sugar
Instructions 
Pre-heat the oven to 200 degrees. Line a large baking sheet with parchment paper and arrange the banana slices on top. Sprinkle with lemon juice and salt. Bake for 2 hours, flipping halfway through. Bananas should be brown and crisp when they are done. Transfer to a wire rack to cool.
Combine the banana chips and Chex cereal in a large bowl. Set aside.
In a microwave safe bowl, combine the chocolate chips, peanut butter and butter. Microwave on high for 1 minute, stopping to stir halfway through. If chocolate is not yet melted, microwave for 20 seconds more.
Pour the chocolate mixture over the Chex and banana chips. Stir gently until every piece is coated then transfer to a large Ziploc bag.
Add the powdered sugar to the bag, close and shake until Chex and banana chips are covered in sugar.
Pour onto a sheet pan for chocolate to cool before serving.