Banana Cake Pops
Makes: 20 cake pops
Time: 3 hours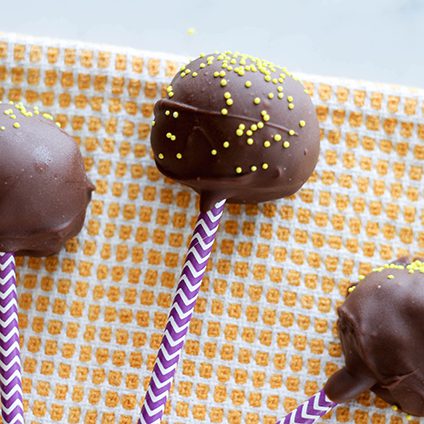 Ingredients
1 box white cake mix
2 ripe bananas, mashed
1 cup milk
1/3 cup vegetable oil
3 eggs
2 cups powdered sugar
1/4 cup unsalted butter, soften
1/2 cup cream cheese, soften
1 tsp vanilla extract
2 cups milk chocolate chips
Yellow Sprinkles
20 – 24 lollypop sticks
Instructions
Pre-heat the oven to 350 and grease a 9 x 13 baking dish.
In a large bowl, whisk together the cake mix, mashed bananas, milk, vegetable oil and eggs until smooth.
Pour the batter into the prepared pan and bake for 25 – 28 minutes.
Allow the cake to cool completely.
While the cake cools, make the frosting by beating the butter and cream cheese together with an electric mixer. Add the powder sugar and vanilla, mix until smooth.
Crumble the cooled cake into the bowl with the frosting and use a spatula to combine. Scoop out about a tablespoon of the cake mixture and roll it into a ball and press the lollypop sticks into the bottom, then place it on a parchment lined sheet pan. Repeat with remaining cake, then freeze for 15 minutes.
Melt the chocolate chips in a glass bowl in the microwave for 1 minute and 30 seconds, stirring every 30 seconds to prevent burning.
Holding the lollypop stick, swirl the cake ball in the chocolate to coat. Top with yellow sprinkles, then transfer to another parchment lined baking sheet to set.
Once all cake pops are dipped, refrigerate for 1 hour before serving.