Banana Bread Scones with Cinnamon Cream Cheese Glaze
Makes: 8 scones
Prep time: 30 minutes
Bake time: 20 minutes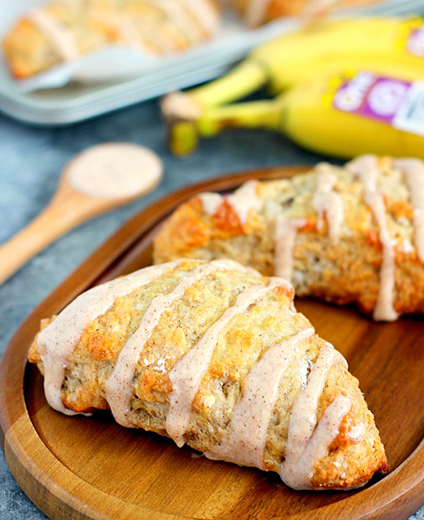 Dough Ingredients
2 1/2 cups all-purpose flour
1/2 teaspoon salt
1 tablespoon baking powder
1/2 teaspoon baking soda
1/4 cup plus 1 tablespoon white sugar
1 teaspoon cinnamon
Pinch of nutmeg
6 tablespoons cold, unsalted butter, cut into small cubes
2 ripe bananas, mashed
4 tablespoons milk (any kind)
1/2 cup vanilla Greek yogurt
Egg Wash Ingredients
Cinnamon Cream Cheese Glaze Ingredients
3 tablespoons cream cheese, softened
1/4 cup powdered sugar
2 tablespoons milk
1/4 teaspoon vanilla extract
1/2 teaspoon cinnamon
Instructions
In a medium bowl, whisk flour, salt, baking powder, baking soda, sugar, cinnamon, and nutmeg.
Add butter to flour mixture and cut with a pasty cutter or hands to resemble course crumbs. Set aside.
In a large bowl, combine the mashed bananas, milk, and Greek yogurt. Whisk to fully incorporate.
Pour the flour mixture into the banana mixture and stir until just combined. Be careful not to overmix, as this will cause the dough to become tough.
Dust a counter top or other flat surface with a thin coating of flour. Turn dough out onto floured surface and pat into an 8 inch circle.
Transfer dough to a small plate or pan lined with parchment paper and place in the freezer for about 15 minutes. This will help the scones to bake fluffy, otherwise dough may flatten if not chilled.
While scones are chilling, preheat oven to 400F. Line a large baking pan with parchment paper. Set aside.
To prepare the egg wash, whisk egg and water in a small bowl.
Remove dough from freezer, cut into 8 wedges, and place onto prepared pan.
Lightly brush scones with egg wash.
Place into the oven and bake for about 15-18 minutes, or until lightly browned.
When scones have completely cooled, prepare the glaze.
In a small bowl, whisk the cream cheese, powdered sugar, milk, vanilla and cinnamon until smooth.
Drizzle over cooled scones.
Serve immediately.
Enjoy!
Recipe Credit
Many thanks to Gayle at Pumpkin 'n Spice for this wonderful recipe!