Banana Bread Bars with Peanut Butter Frosting
Makes: 15 Servings
Time: 40 minutes
Level: Easy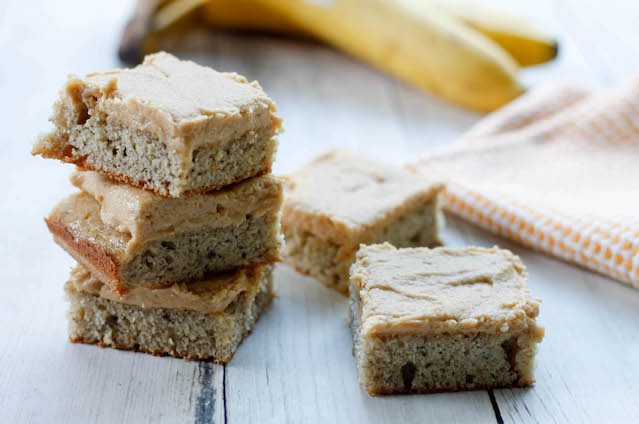 Ingredients
Cake:
• 3 ripe bananas
• 1¼ cup sugar
• ½ cup (1 stick) unsalted butter, melted
• 2 eggs
• ½ cup buttermilk
• 1 tsp. vanilla extract
• 2½ cup all purpose flour
• 1 tsp. baking soda
• 1 tsp. salt
Frosting:
• 1 package (8 oz.) cream cheese, room temperature
• ¼ cup unsalted butter, room temperature
• 1 cup creamy peanut butter
• 1 ½ cups powdered sugar
• ½ tsp. vanilla extract
Directions
1. Preheat the oven to 350 degrees. Grease a 10 x 15" jelly roll pan and line the bottom with parchment paper.
2. In the bowl of an electric mixer, mash the bananas, then mix in the sugar until combined. Pour in the butter and mix to combine. Add the eggs and mix until combined.
3. Pour in the milk and vanilla, and then mix until combined.
4. In a small bowl, combine the flour, baking soda and salt. Pour into the wet mixture slowly with the mixer on low speed.
5. Pour the batter into the prepared pan.
6. Bake for 30 minutes. Then cool completely in the pan.
7. Make the frosting by combining the cream cheese, butter, peanut butter, powdered sugar and vanilla extract in a bowl and mixing until combined. Spread on cooled cake before serving.