Angel Food Cake
Makes: 10 – 12 servings
Prep Time: 20 minutes
Bake Time: 1 hour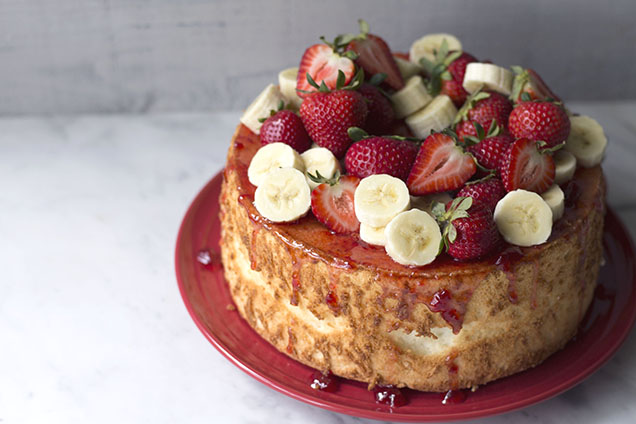 Ingredients
12 egg whites
½ tsp salt
1 tsp lemon juice
1 ¾ cup sugar
1 cup cake flour
½ cup strawberry sauce
1 cup fresh berries
2 bananas, peeled and sliced
Instructions
Pre-heat the oven to 350 degrees.
Combine egg whites, salt and lemon juice in a mixing bowl and whip on medium speed until they hold a soft peak.
Gradually add half of the sugar and continue whipping until stiff peaks form.
Combine the cake flour with the remaining sugar and sift the mixture into the egg white bowl. Fold with a spatula to combine.
Place batter into non-greased tube pan with a removable bottom and bake for 1 hour.
When the cake is baked, invert onto a wire rack to cool. Once cool use a knife to loosen the sides and the bottom from the pan.
Once cake is completely cool top with strawberry sauce, fresh berries and sliced bananas.